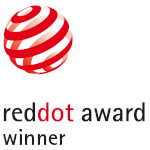 High-speed black hand dryer in an elegant and award-winning design, featuring unbroken lines and a slender, almost weightless look.
An interchangeable top plate facilitates customising to any colour scheme or visual identity. Also available as Björk black soap/disinfectant dispenser & Björk black baby changing station.
A carbon particle filter assembly is available for dusty installation environments. This unit is installed at the airlet and will lengthen the life cycle of the hand dryer.
DAN DRYER is a total supplier of hygiene equipment & solutions to the public bathroom, and our BJÖRK product-line brings functionality and design to a whole new level.
Harmonisation is one of the keywords behind the award-winning range. The series works as a family ensuring consistency of appearance and a complete solution, which is aesthetically pleasing to the eye.
You can also find the black hand dryer in more colours; white & all RAL Classic colours.
The self-adhesive laminate top plate is easy to change and available in six optional standard colours.