BJÖRK BABY CHANGING STATION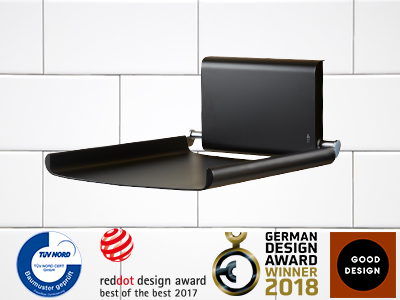 For parents with infants, the changing table plays a central role. Such tables have to satisfy high demands both in the private and public areas. The baby changing station from the BJÖRK series represents a highly elegant interpretation. Embodying Danish design tradition, its design has emerged as the best possible compromise between form and function. This wall-mounted foldout changing table is marked by a reduction to the essential. Every single feature has been carefully thought out to serve its specific purpose. The front cover is slightly curved in the longitudinal direction creating an elegant and sleek expression while folded up. Perfectly adapted ergonomically, it provides a comfortable and secure base for the infant. The cover is extruded in one piece and makes cleaning very easy, while being constructed without joints also prevents the settlement of bacteria. Corresponding to the entire product series, the design of the wall bracket with retracted sides makes a slim impression and consistently hides the transition between wall bracket and front cover. An inconspicuously integrated torsion system in the wall bracket not only ensures easy and user-friendly opening and closing with just one hand, but also prevents fingers from getting trapped. The design of the baby changing station from the BJÖRK series convinces with a design approach marked by purism and practical use – it goes far beyond familiar forms by creating a highly refined aesthetic.

BJÖRK HAND DRYER
The cylindrical form of the hand dryer BJÖR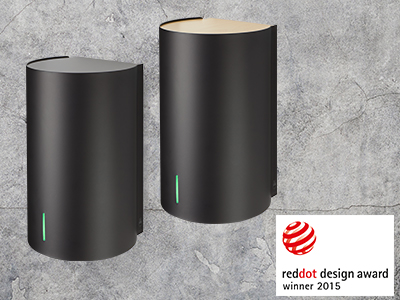 K presents a design solution beyond the usual. The almost unbroken dome of the body forms an entity with the wall. This also offers functional benefits as the cylinder softens the volume of the flowing air jet. The upper part is available in different colours and can thus be customised to match the environment.
Thanks to its cylindrical shape, the hand dryer BJÖRK is treading new ground not only in bathroom aesthetics, but also dampens the sound of escaping air.