DAN DRYER products with their discreet Viking logo are a familiar site in public toilets all over the world. They are soon to be joined by the elegant BJÖRK – the name of the company's award-winning new range.
– "We've had a fantastic start with BJÖRK. Even before its official launch its design has caught the eye of the experts", says DAN DRYER's proud CEO, Susanne Friis Eden. BJÖRK has just been awarded the Red Dot Design Award, one of the biggest and most prestigious design awards worldwide.
– "The award is a door opener – particularly on the European market", believes Hugo Dines Schmidt, a partner at the VE2 design bureau in Aarhus, Denmark, and the designer of BJÖRK.
– "A Red Dot Design Award is one of the most prestigious international design awards and an endorsement of quality that lasts as long as the product is in production".
Schmidt says that it was both bold and far-sighted of DAN DRYER to take the business to the next level by working so professionally on a new product design. "The award is a massive compliment to a business such as DAN DRYER that shows its class by investing in such a forward-looking activity," says Schmidt. VE2 has now won a total of three Red Dot awards, working for clients such as Stokke, unoform and Trip Trap.
Attracting architects
DAN DRYER is one of the leading European suppliers of toilet equipment to airports, public institutions and retailers, and is a former nominee for a place in 'Danmarks Eksportkanon', a directory of the top 30 Danish exporters.

The idea of BJÖRK was to create an elegant, functional design as the basis for a product range priced under DAN DRYER's high end Stainless Design products. Using BJÖRK as its trump card, DAN DRYER will now seek to be included even earlier in the building planning and design process via contact with architects.

"We want to talk to architects to a greater degree. We have gone for a more Nordic-style design, so that we can be included at the project planning phase of a building," says Friis Eden, also emphasising that DAN DRYER already has an unusually strong brand and that the new design will complement the existing range, rather than take market share away from it.
Various shades of the Viking
BJÖRK is cylindrical, available in a range of colours and has a top that can be changed whenever required. And of course, it has the familiar Viking logo, although in a more discreet position. Hugo Dines Schmidt explains the thinking:
"The Viking is synonymous with ruggedness and reliability. It's the symbol of a tough Nordic race with staying power, but can steal the limelight thanks to its bold design. That's why we decided to play it down a little on the BJÖRK. The colour has been toned down and the logo itself moved discreetly to the side. It's a bit like a painting where painters always put their initials discreetly in a corner."
The design process took a year of close collaboration between DAN DRYER and VE2. Schmidt emphasises that a product design has to always be integrated into a context.
"And when you design a hand dryer, you also have to remember that it must be able to function in numbers – dryers are often set up alongside each other by hand basins, so the less intrusive they are, the better. The overall impression has to be attractive, in the same way as designing kitchen handles or street furniture."
BJÖRK has just been presented at the ISH trade fair in Frankfurt, where it received a lot of positive feedback according to DAN DRYER. The range will be initially launched as a
hand dryer
and
soap/sanitiser dispenser
, with other products envisaged for the future, including a waste bin, baby changing station etc.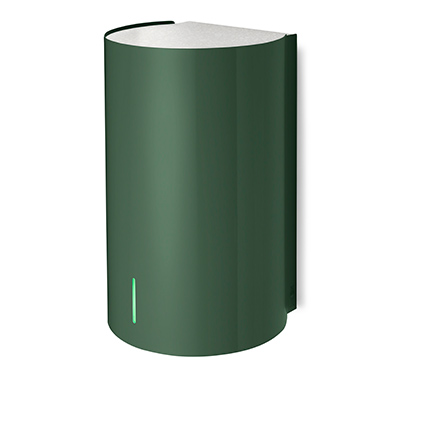 The jury states:
BJÖRK's cylindrical shape brings a new form of aesthetics to the bathroom and toilet – not just because of its stylish design, but also because of its quietness.