LOKI dispensers on floor stands ensure safe hand hygiene as a central element of the interior concept at Bolia's head office in Aarhus as well as in stores across Europe.
Project story
The passion for Scandinavian design based on nature is a central idea to Bolia.
Simplicity, elegance and skilled craftsmanship are core values that shine thorugh everything they do; when browsing their website, visiting one of their beautiful shops or if you are lucky enough to be invited to their newly renovated international headquarter, which is located in the heart of Aarhus, Denmark.
Looking to find an elegant and durable dispenser solution that could ensure a uniform look in both stores and at the head office, Thomas F. Schelander, Concept Design Manager at Bolia, had to go through many different solutions before he fell in love with LOKI from DAN DRYER.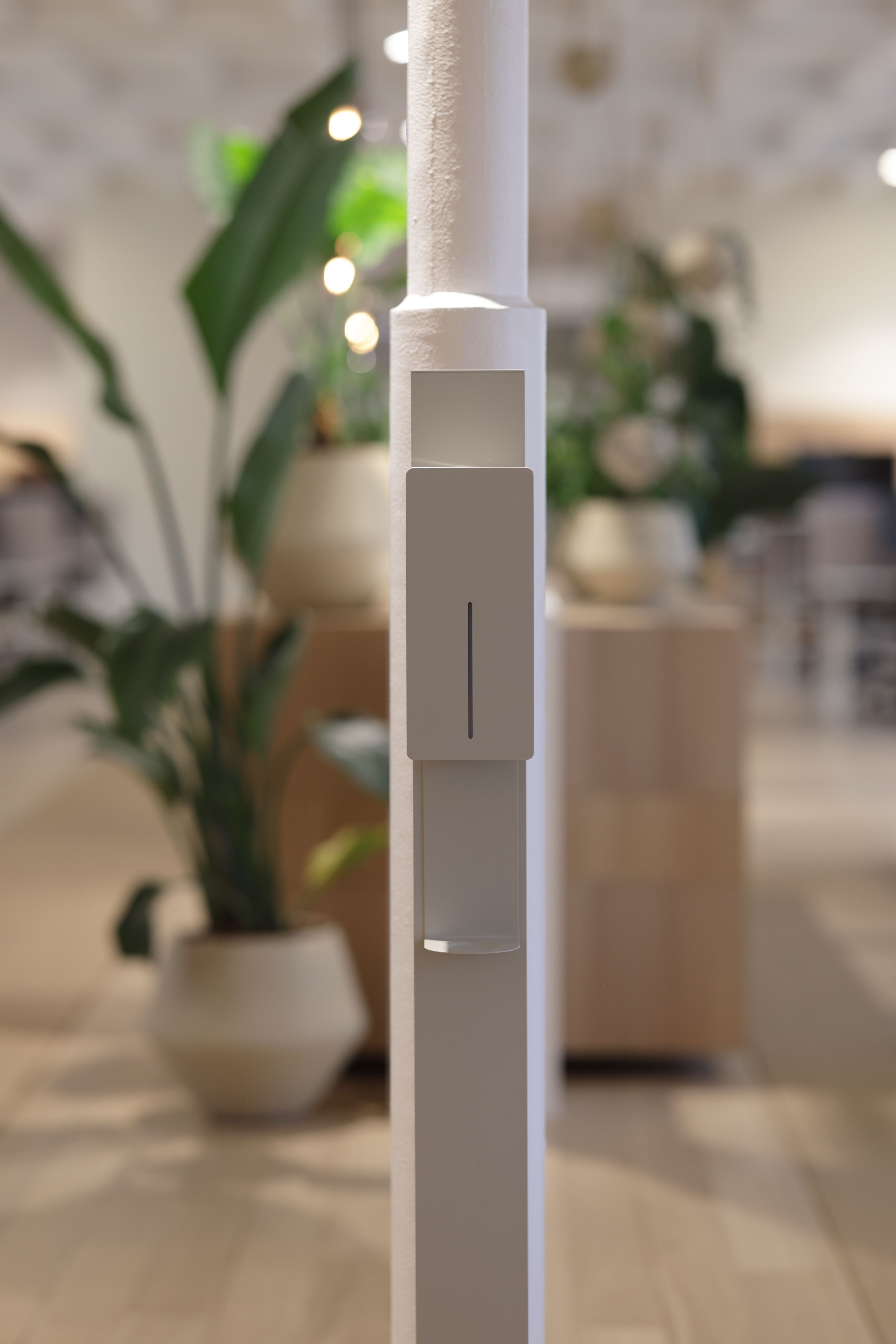 The challenge
"It took us quite some time to find the right disinfection dispenser. There are so many different options on the market, but there are not many well-designed solutions", Thomas F. Schelander says and continues:

"It was not easy to find a solution where design, aesthetics and quality all came together. At the same time, we had a strong desire to influence the look and feel of the solution ourselves as we did not want a standard solution in black, white or stainless steel. We looked for a solution that not only lived up to our expectations of high quality but also was available in a colour scheme to match our design universe. With LOKI we got it all", he concludes.

On trial for 14 days
Before the final decision was made, Bolia got a LOKI dispenser on floor stand on trial for 14 days to test if it was suitbale for daily high frequency usage. It was also important that it was equipped with a drip tray to eliminate any excess dripping on the floor.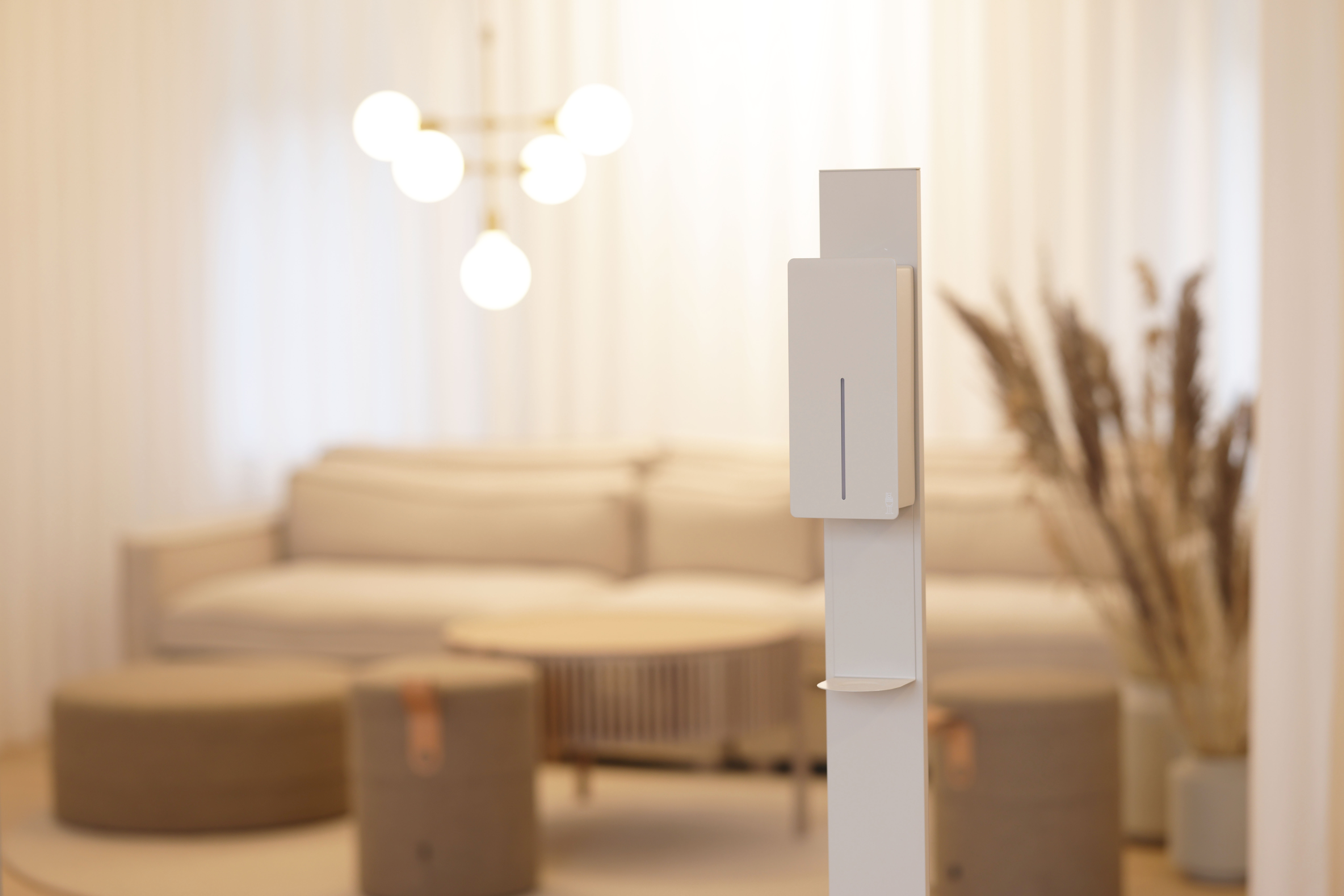 A uniform solution across national borders
Previously, it was up to the individual stores around Europe to provide sanitiser dispensers for customers. Consequently, the stores did not look and feel the same, which was not in line with Bolia's corporate identity design. A pan-European solution had to be found.
"The key parameters; design, quality, and colour have all been satisfied by the solution from DAN DRYER. We have customised the LOKI dispensers in a colour carefully selected by ourselves", Thomas F. Schelander says.
He continues: "It was also important to us that the quality and reliability of the solution was extremely high as we welcome many customers into our stores every day. So far, we have only received positive feedback from our staff.
We are very pleased with the result. Now we have an elegant high-quality solution that we can easily implement in all our new stores, which we plan to open over the coming years," he concludes.

Facts
Bolia consists of 65 design stores in Denmark, Sweden, Norway, Germany, Belgium, the Netherlands, Switzerland, Austria and France as well as web shops in 32 countries. Bolia's design collective consists of more than 40 international designers.

More images from Bolia
Go explore

What Bolia got:
• 100 pcs. LOKI touch-free dispensers on floor stand
• Floor stand
• LOKI hand dryer with HEPA filter
• HEPA filter for LOKI
• Explore the entire LOKI product line