With the choice of BJÖRK the oldest confectioner in Denmark has complemented renewal with respect to the historic interior.
Project story
When La Glace - the oldest confectioner in Denmark - started renovation of its toilet facilities designed by architects C.F. Møller, the challenge was to create renewal in a manner able to complement their historic and stylish interior.
DAN DRYER's new BJÖRK was the natural choice when specifying hand-dryers and soap dispensers.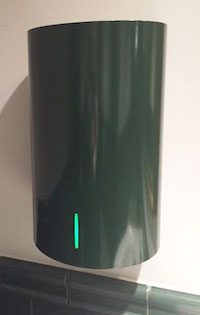 "We needed an efficient, compact hand-dryer with a simple design that could blend in with our unique, historical interior. Another argument for choosing BJÖRK from DAN DRYER was the option of being able to specify a special colour that had of course to be our own classic La Glace-green. But what really counted was the recommendation of our architect, Henrik Kjær Christiansen." says the Managing Director of La Glace, Marianne Stagetorn Kolos.